Skip to content
Lions Children of Courage Award 2022/23 awarded to Antony Abbraciavento
On Monday, at Government House, Her Excellency, as an Honorary Member of the Lions Club of the City of Adelaide, and Mr Bunten, hosted a reception for the presentation of the Lions Children of Courage Awards.
The Lions Children of Courage Award 2022/23 was awarded to Antony Abbraciavento, a Can:Do 4Kids nomination.
We truly believe that Antony displays the outstanding qualities and achievements worthy of the Lions Children of Courage Award and thank Her Excellency for the very special occasion which Antony attended with his mother Christina, and Can:Do 4Kids representative, Charlie-Helen Robinson.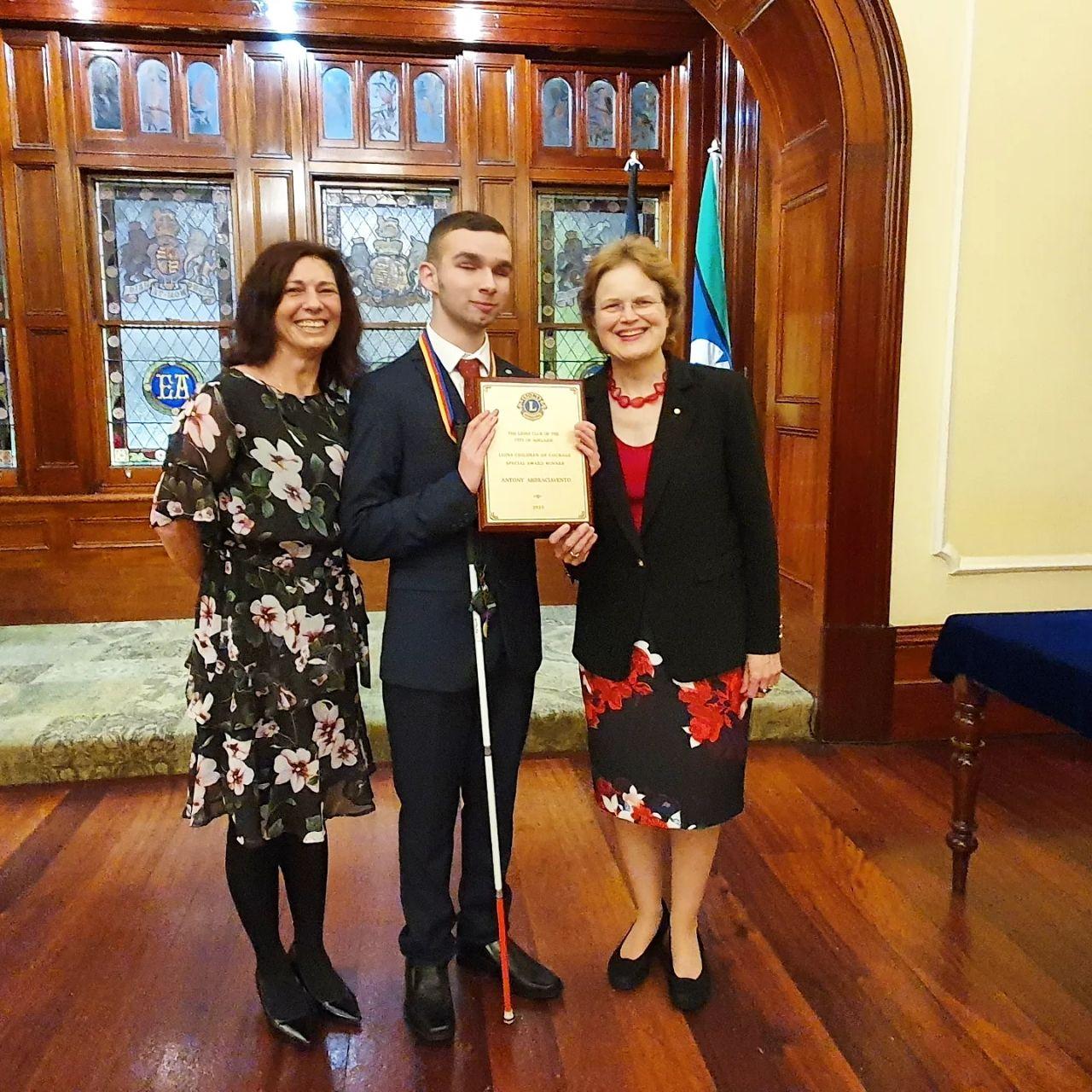 governor.sa.gov.au/vice-regal/daily-program/monday-5-june-2023

We also thank the Lions Club of the City of Adelaide for your commitment to inspiring children to be courageous in their pursuits, with no limits.

The Lions Children of Courage Awards provide recognition to the many young people severely disadvantaged by a variety of life-threatening and/or life-altering disabilities. The awards were started in 1989 to recognise the considerable efforts of children living with physical and/or mental disabilities or handicaps, their parents, and in some cases carers, to improve their life and enjoy some of the benefits that fit and healthy children take for granted.

Petrea Stacey, Project Co-ordinator says, "What these young people have achieved is truly remarkable and highlights the dedication of their parents and professional supporters (including speech therapists, physiotherapists, occupational therapists, special education teachers, social workers etc.)."
Antony was born with a rare congenital condition called Microphthalmia which occurs in approximately 1 in 10,000 individuals. Some babies with microphthalmia look like they're missing one or both eyes, but they still have some eye tissue. There is no cure, but many treatments are available. By about 6-8 weeks, most babies will start smiling at the familiar faces and things they see. But if a baby has vision impairment, you might notice they have trouble doing this.

Antony copes with his vision impairment because of his Can:Do attitude, displaying incredible resilience, persistence and determination in himself but also with the support of family and assistive technology to get through every day. For example, Antony works with our orientation and mobility specialist to make sure he knows how to use his cane effectively when out and about.

He is now an accomplished composer who plays Piano and Flute! He wrote the "Braille Minuet" in 2020 and came 1st Place in Australian Society for Music Education (ASME) Young Composers Awards – South Australian Chapter and an honourable mention for his "Wait It Out" composition in 2021.

We won't need to 'wait it out' long to hear what's next in Antony's life, and we know one thing for sure, he doesn't let anything get in his way... and he has a good ear for music! We're singing his praises!

Congratulations Antony.
Well deserved!

Join the Can:Do family!
Call us